Do you feel frustrated?   
You aren't alone.  
Many entrepreneurial business owners feel the same frustration: 
Increased Effort.  Declining Profits. Stagnant Growth. Less Fun.
It doesn't have to be this way.
You can regain control.
It is Closer than You Realize!
Join 80,000 companies who have transformed their businesses by implementing EOS (Entrepreneurial Operating System).  By applying EOS's simple and time-tested tools, business owners have been able to regain control over their businesses and their lives.
Introducing the EOS Process
Vision
Align the entire organization    behind the vision and the plan on achieving that vision
Traction
Execute on achievement of that vision with discipline and accountability
Healthy
Transform your leadership team into a healthy, functional, cohesive team who actually enjoys working together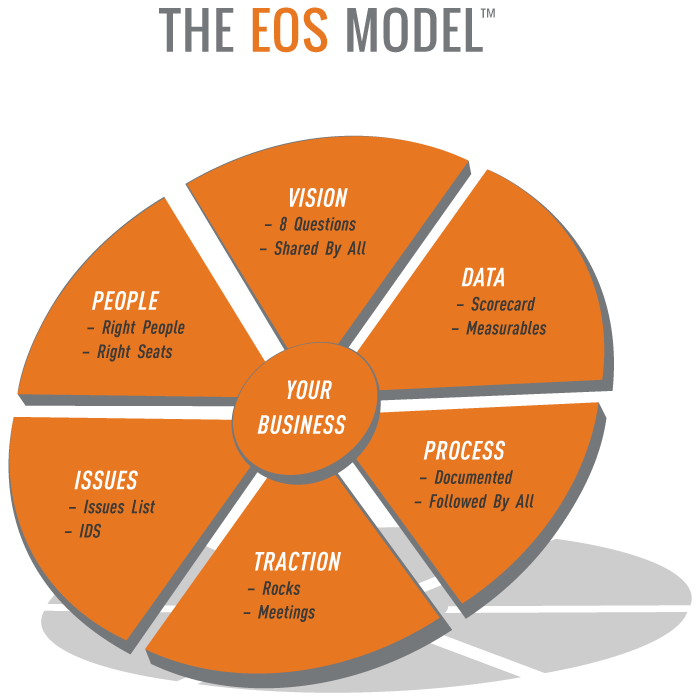 Four Simple Steps to Regaining Control
This allows us to get aligned around your vision for your company.
Introduce the process to the leadership team.
Together we implement the tools and disciplines.
You regain control of your business and your life.
Julie is the best kind of coach – she tells you what you
need
to hear. What sets her apart is she does it with the kindness that shows she genuinely cares about your success over the long term.
-Tom Paul, CEO, BAM 
What Got You Here May Not Get You There
Every successful business will eventually need a new set of tools in order to break through the ceiling. With an investment that is a fraction of the cost of an administrative assistant, you can completely transform how your business is run and reap the benefits for years to come.
Through the mastery of a few simple tools and disciplines, growth will accelerate and profits will increase.
We are so confident that you will receive value from our work together, we completely guarantee our work (however none of our clients have ever taken us up on our guarantee).
Five Ways to Regain Control of Your Business Today
Regaining control isn't something that has to wait.  You can start taking steps today.  Get your free PDF and turn the tables today.