KPI-thrive™ is a unique, proprietary training system designed by Key Process Innovations (KPI) to train personnel on how to use process control tools focused on reducing process variability and improve part quality. Think of it as your personalized tool for implementing process control in your plant.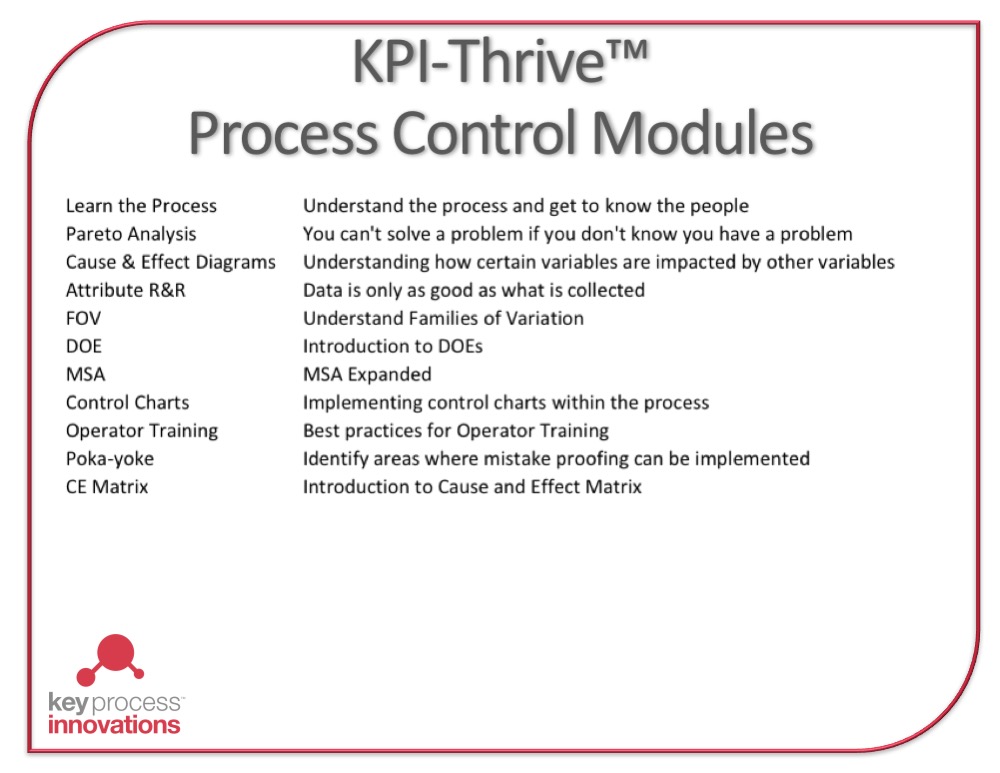 KPI-Thrive™ is structured with weekly webinars between the employee and KPI along with periodic on-site visits to reinforce the training and provide hands-on support. You will receive monthly reports on the progress of the training and you will be able to measure the ROI of KPI-thrive on your business.
In addition to the technical aspects of the program, some of the training is around other skills that may be needed in order to be successful in your organization, such as operator training and time management. You also have the opportunity to provide input on specific areas of coaching that could further develop your employee.
Some of the topics included in KPI-Thrive™ are:
[columns]
[column layout="two"]
Process Flow Mapping
Pareto Analysis
Cause & Effect Diagrams
Attribute R&R
FOV
DOE
MSA
Control Charts
[/column]
[column layout="two"]
Operator Training
Poka-yoke
CE Matrix
Checksheets
Problem Solving Methodology
Cp vs Cpk
Histograms[/column]
[/columns]