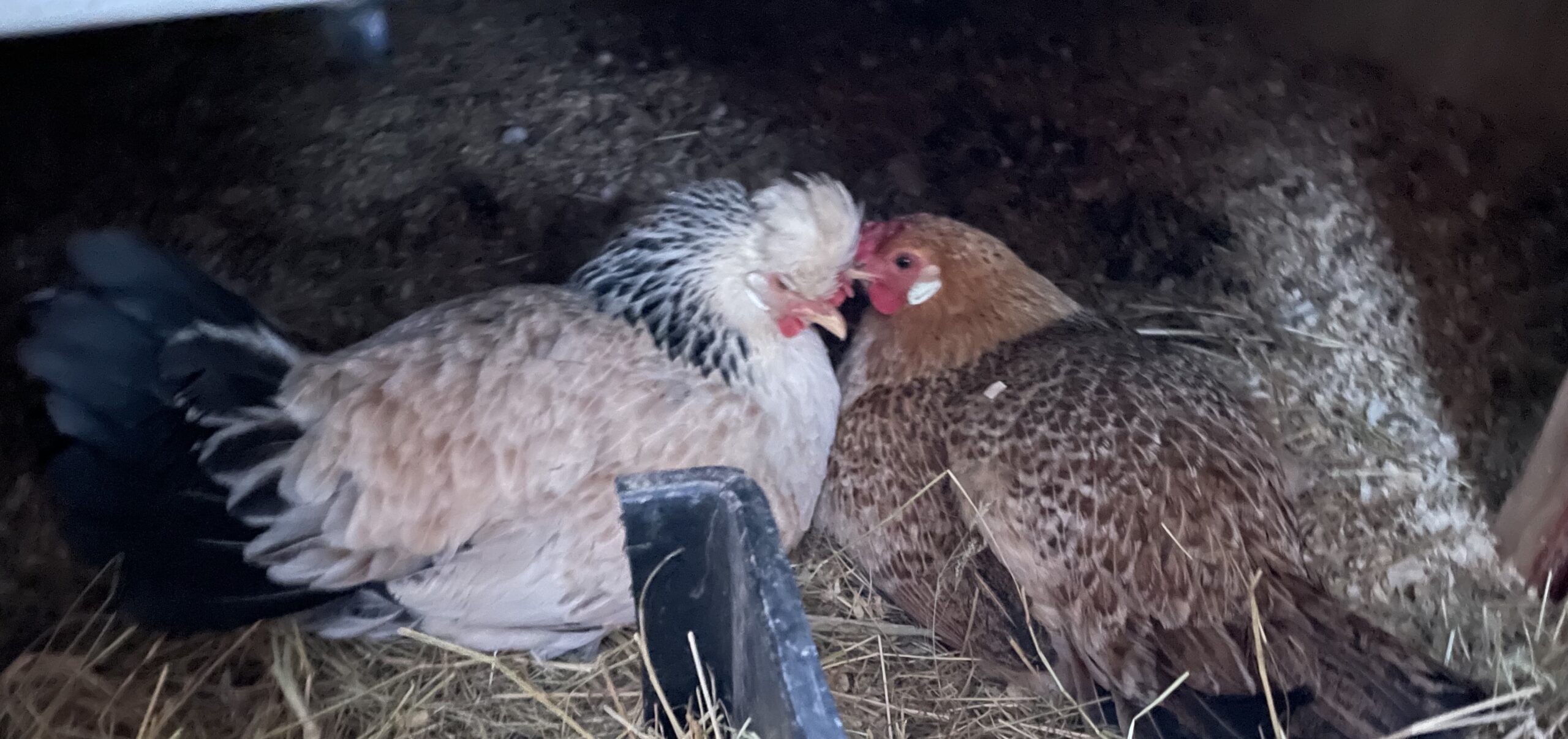 I want to preface this article with a confession. When I started writing about chickens over a year ago, I honestly thought I would run out of things to talk about. I mean, how exciting can chickens be? And how many ways can you tie chicken mama adventures to business? But, as recent events have made me realize, I have a lot more to write about. So, let's get to it.

Two weeks ago, I went up to the coop on Monday morning to let the chickens out. With all my chicken drama, I am in the habit of counting chickens whenever I go up to the coop. Well, that Monday morning, I was missing a hen. I opened the nesting box and there she was: my missing hen, Priscilla, sitting in one of the nesting boxes. It seemed a bit early to be laying an egg, but at least I could count all my chickens, so I didn't think much of it.

Until later that day, when I discovered Priscilla was still sitting in the nesting box. I made sure she was still breathing, and then started to think I might have a broody hen.

What is a broody hen, you ask? (At least, I hope you are asking, because I had no idea until I began my quest to become a chicken mama.) A broody hen is a chicken that has decided to sit on and incubate a clutch of eggs.

The next day, I went up to check and sure enough, she was still sitting on her eggs. So I did the customary check to see how broody she was, and she passed the test (she tried to peck me and growled at me).

As you may recall, I still have Oden, the rooster, so that means we are expecting!

A few days later, we went up to check on Priscilla only to find that we now have two broody hens. Sally, the lone hen survivor from the big chicken massacre, decided that she also wanted to sit on some eggs.

While I don't know how many eggs the two of them are sitting on, I think we are somewhere around 12 eggs each. So we could have a flock of little peeps in the next week or so.

Preparing for a new addition to the chicken family is a lot of work. We had to build a brood hen coop and buy new food, food and water containers for little peeps, and a camera to film the hatching. I want those peeps to feel like they are welcome into our chicken family.

How many of you are in the process of welcoming new employees into your work flock? Some people are coming back to the office after an extended work-from-home stint, and many companies are beginning to add new employees to the team due to growth or attrition. Done properly, the process of onboarding goes beyond taking new hires to lunch on their first day. It involves helping them acclimate to their environment so they can thrive.

Most likely, it's been a while since you onboarded anyone. It may be time to dust off your onboarding process and make sure it's up to date and matches the new workplace environment.

If you don't think you need an onboarding process, consider the following statistics:
A report from the Society of Human Resource Management found that half of all hourly employees leave within the first 120 days.
Another study completed by the Wynhurst Group found that having an effective onboarding process can increase employee retention by 58 percent and improve employee performance by 11 percent.
Here are some best practices to establish an effective onboarding process for your company:
Establish an onboarding outline. This outline may vary for each position but should be adapted to suit each new hire. Key aspects include:

Expectations of the job;
Explanation of how the job contributes to the company's strategic goals;
Job-specific training with key personnel assigned to assist with the training;
Company-focused training so the employee understands the business, including its values and culture;
Performance goals.

Be prepared for the employee prior to her first day. What kind of a message does it send if you aren't prepared? Paperwork should be ready, a schedule established and team members notified. Having a new employee standing around waiting for you on their first day doesn't send a welcoming message.
Make onboarding a two-way street. Giving some responsibility to the employee during onboarding helps them gain ownership in the process. For example, you could have an employee list the areas where he feels he needs further training or exposure.
Establish a calendar for onboarding. What specifically does the company need to do in the 1st day, week, month and beyond? What specifically is the employee responsible for? Establishing 30-, 60- and 90-day goals for the employee can help determine if he or she is a good fit for your organization prior to the 90-day review.
Schedule one-on-one meetings on a consistent basis. During these meetings, both parties should be open to feedback, suggestions and questions.
The onboarding process should extend beyond 90 days. As the employee becomes a contributing member of the workforce, shift the conversation towards employee development and advancement.
I can tell you that having little chicks grow into laying hens (and hopefully a nicer rooster) seems like a much better option than putting up with Oden and paying an arm and a leg for laying hens. Similarly, it might pay off to put some energy into developing your new talent into real assets for your organization.

If you feel that your onboarding process could use some help, I have some resources that can help you strengthen it. Email me today and I'll share what I have.

While you can't count your chickens before they hatch, you can prepare your new hires to assimilate into your culture and become contributing members to your flock.