In order to get the maximum benefit out of a high shear disperser, it must be properly set-up. Otherwise, you are adding variability into your process.
Like any piece of equipment, it is important to ensure it is being used properly. The purpose of a high shear disperser is to allow the slurry to be introduced into production sooner. However, if the unit is not properly set-up and procedures are not established, you could be introducing variation into the process.
[column layout="two"]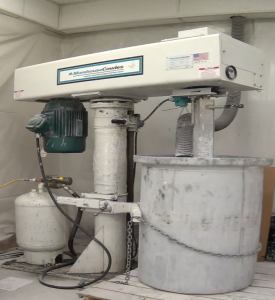 [/column]
Set-up – it is critical that the high shear disperser is set-up properly including speed, blade size and type and tank dimensions.
Procedure – there is a proper way to add the ingredients, from the liquids to the flour to the additives.  Make sure that your operators are following your clearly outlined procedures.
On-going Maintenance – a high shear disperser can run for many years – however, the blade does need to be examined and periodically replaced.  This replacement can be as frequently as week or as long as 6 months.  There are a few methods to use to evaluate when the blade needs to be changed – visual inspection, change in batch viscosity or amp draw.
Need more help? Send us an email and we can discuss ways to optimize your high shear dispersion process.